Contexts Report
Last Updated: 08 Feb 2019
This entire manual refers to a feature that was added in version 5.4.0.0
The Contexts Report provides information about Context data for all assets under a particular root node.
For example, if you wanted to know how many Standard Pages have had content customised for a particular Context for either its attributes or metadata, you can set up and run this report to view this information.
To create an Contexts Report, from the Asset Map choose New Child and then Reports > Contexts Report.
The documentation on this page only contains information that is specific to this Report Type. Click here to read more about the generic functionality that is available for the Report Asset.
Bookmarks
Details Screen
Report Options
This section allows you to configure what the Contexts Report will show.
The fields available are as follows:
Context To Report: This will list all the Contexts that are available in your Matrix system. For each Context you can select whether you want to report on Attributes (contents, name, short name, etc), Metadata, or both. Consider this configuration example:

In this example, the report will include assets that have had their:

Attributes customised for the Swedish context,
Attributes and Metadata customised for the Chinese context, and
no assets from the Japanese context.
Report Screen
An example of what this Report looks like is shown below: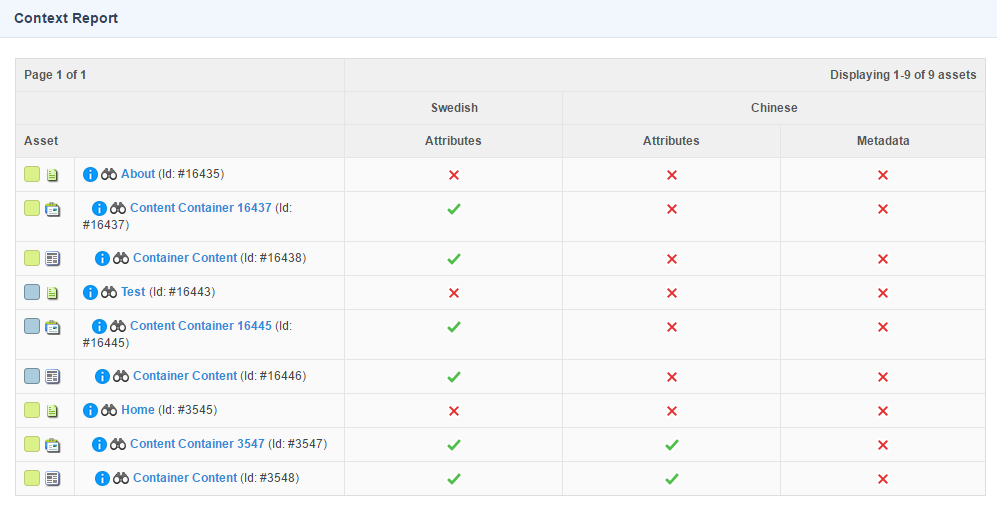 This screen will show a table of all assets that have been customised for the Contexts specified in the Context To Report configuration of the Details screen.
A "tick" icon indicates that the data has been customised and a "cross" icon indicates that the data for that asset in that Context is still using the value from the default Context.
The information that is displayed on this screen is as follows:
Asset: this column shows information about the asset such as Status, Asset Type, Name and Asset ID.
Context Columns: each Context that has been included in the report will have its own column in the report. The Context column is then split into two sub columns:

Attributes: whether or not the Attributes for this asset have been customised for this Context.
Metadata: whether or not the Metadata for this asset have been customised for this Context.
---