Switching Users (Log In As)
Last Updated: 24 Oct 2017
The Log In As tool allows a System Administrator or Root User to switch to another user account for troubleshooting purposes.
This may then allow you to reproduce a problem in the system that has been reported by a specific user.
To log in as a different user, click the Log In As button, located in the toolbar in the top right-hand corner of the screen.

Enter the username of the user that you want to log in as and click Log In. The Administration Interface will be refreshed and you will be logged in as that user.

The Log Out Icon in the toolbar will also be changed to indicate that you are logged in as another user.
To revert back to your user account, simply click the Log Out Icon.
You can also right click on a User asset in the Asset Map and choose the Log In As option to do the same thing.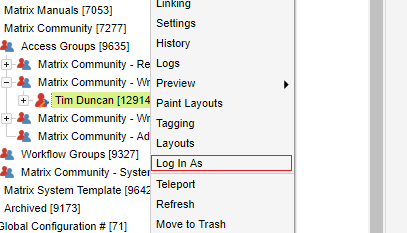 Performing Actions as Another User
When you are logged in as another user, any actions you do that create log entries, such as edit or create assets, will be tracked in the log message as your original user.

---