5.5.6.0
New features
Asset Version History
A brand new extension is now available for Matrix called "Asset Version History".
Once installed, a new screen called "Version History" will be available on all asset types in the system.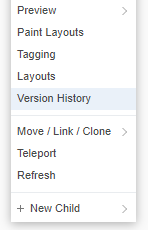 When navigating to this screen, a list of all versions that have been captured for that asset will be shown.
Clicking on a version will show a "snapshot" of that asset and everything that was stored against it at that point in time including its standard fields, attributes, content, metadata, and more.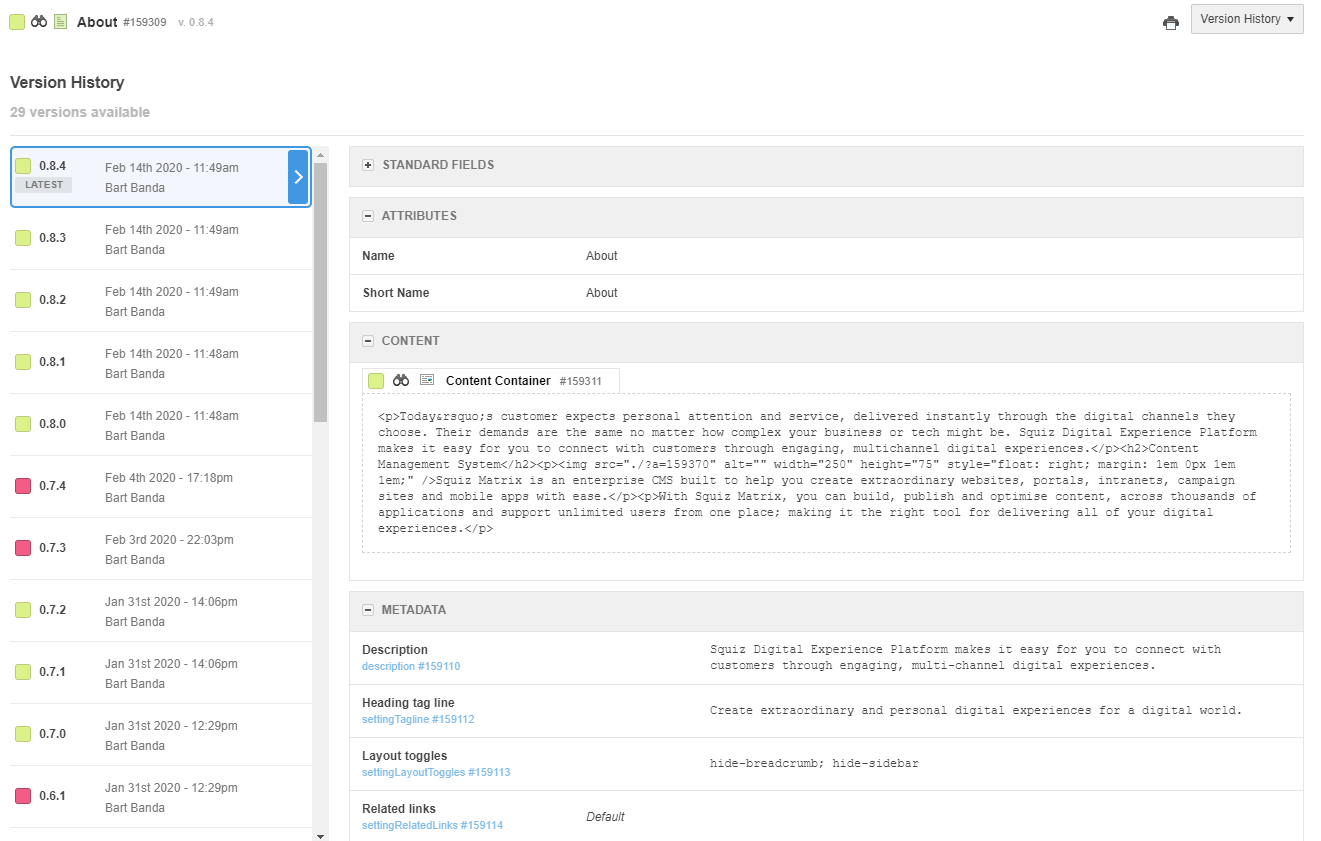 Note that only versions created from when the extension was installed will be available on this screen.
The Asset Version History extension is available from the Squiz Marketplace and can be installed on any Matrix system running version 5.5.6 or higher.
Future improvements for this feature are also planned, including the ability to compare the changes between two versions and an automated way to restore previous versions.
Improvements
Content editing performance improvements
Several performance improvements have been made in this release to make content editing significantly faster for both Admin and Edit+ interface users.
The main area of speed improvements that we've focused on is when pages have lots of content containers with content templates applied and those templates using one or more metadata fields.
We've also made tweaks to the way that search indexing is done on changes to assets. This process is now deferred as a separate backend process so that indexing several assets at once when a change is made doesn't hold up the editing interface from loading which has improved the speed of content editing even further.
Performance comparison tests performed on the matrix.squiz.net site, which is hosted in Squiz Cloud, showed save time reductions between 20% - 50% (depending on how many containers are used) when editing the content screen on a standard page.
New default pagination setting on listing assets
All listing assets now have a new default value for the "Assets Per Page" setting.
Previously this was set to empty, meaning that the listing would load an unlimited number of assets by default when you first create it. This would often lead to unexpected frontend performance issues once more and more assets would get added to the listing over time.
Now, this default value is set to 100 to help reduce those unexpected performance issues. This new default will only affect newly created listing assets and won't affect existing ones when a system is upgraded using the automated upgrade process.
Asset versioning improvements
Several improvements have been made to the core asset versioning system to make version numbers get incremented much more efficiently and logically
For example, when saving the content screen of a standard page that has several content containers, the version number of the standard page will now only increment once overall, instead of incrementing for every container on the page.
Furthermore, asset versions on individual containers now also won't get incremented unless any data on them has changed when saving the content screen of a standard page.
Custom asset screens
A new capability has been introduced into the Matrix package system that allows extensions and other packages to create new or overwrite existing asset screens.
This feature was introduced to support the new Asset Version History extension, but can now also be used for other future extensions and packages that are developed for Matrix.
Bug fixes
Deprecations
#1904 - Deprecate XML User Bridge - Stage 1

This asset type has been deprecated and will be removed in a future version.
For more information on all deprecations, please view the deprecations page.