HTML_CodeSniffer
HTML_CodeSniffer is a client-side script developed by Squiz that checks HTML source code and detects violations of a defined coding standard. HTML_CodeSniffer is written entirely in JavaScript, does not require any server-side processing and can be extended by developers to enforce custom coding standards by creating your own "sniffs".
This tool also powers the Accessibility Auditor within the Edit+ package for Squiz Matrix.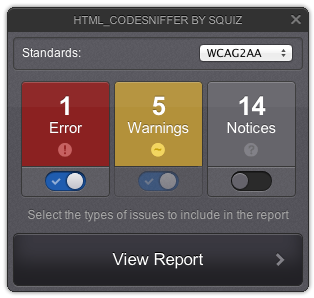 The HTML_CodeSniffer comes with standards that enforce the three conformance levels of the Web Content Accessibility Guidelines (WCAG) 2.0, and the web-related components of the US "Section 508" legislation.
Let Us Know What You Think
Let us know if you spot any errors or if you have any ideas on how we can improve the Matrix Community Website.
Contact Squiz for Demo
Let us show you the true power of Squiz Matrix by giving you a personalised demonstration.